MyCams.com
In our opinion, MyCams does a great job of bring you into the whole live cam experience and personalizing it to make you want to spend more time on MyCams.com. It's always nice to spend time on a site that does not try to hard to rush you into choosing. The upside is that you spend more time on the site and enjoy looking around for models that peak your interest based on their profiles. That way you get more what you think you want. The downside of MyCams.com is that it is not free, and does not always deliver great models or great amateur live cam members to watch and chat with. The membership model includes three different tiers, all of which offering better credit on the rate per minute with each model. They also offer a tier system when it comes to models, ranging from beginner to expert. One of the nice things about MyCams is that they do provide free access to the weekly group video feed of a model's performance. The group video feed allows members to comment on the model's performance. We really liked this experience, and we were impressed with how fast the message board kept up with the messages. There was no lagging even though 50 different members were signed in and chatting.
Once you sign up and pay the monthly membership fee, you are prompted to answer a number of questions about yourself and your experience with live cams. We were also asked to categorize ourselves based on certain objects, things, or feelings. So one of the questions was: "do you like Chevy trucks or Audio sports cars?" We could see why MyCams was asking us all these questions, but frankly it seemed like an annoying waste of time. MyCams.com is catering to the kinds of people that are used to conventional online dating sites, not cams.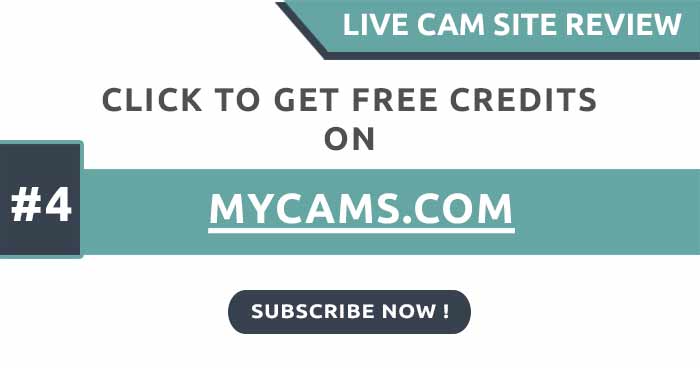 Is MyCams Any Good
Is MyCams any good? Well, it is definitely good at categorizing members into similarities and differences, making it easy for members to search and find what they like. We did not mind the whole signing up process, but were certainly skeptical that it would lead to us meeting hot models any faster than on a site without such a lengthy signup process.
Once the signup process was finished, we were left with a nice profile to personalize with images, information, and little anecdotes about ourselves. We did as much of that as we wanted, and then got searching for models. There were between 300-500 models online when we were online, but a lot of them were lesbians, trannies, or guys. We did find that all the categorization helped when it came to searching for models, however. MyCams has a search algorithm based on all the questions that it asks members when they signup. Then, when you are searching, you just pick a combination of those attributes and see what comes up. Of course you have to pay more for live models to perform for you, and we think it is worth it, because a lot of the amateur models are not nearly as good. With the luxury of so much choice on your hands, and a really nice search algorithm to help you decide what you want, it was definitely a pleasure searching through the models. One of the only issues seems to be the payment method on MyCams. They ask for a flat monthly rate rather than pay-as-you-go per model, and that might seem too expensive for people. We think that turns people off of the site for sure, even though we enjoyed our experience because we spent enough time chatting with the models. It was certainly harder to get the models to perform as quickly as on great sites like LiveJasmin, which uses the pay-per-minute method.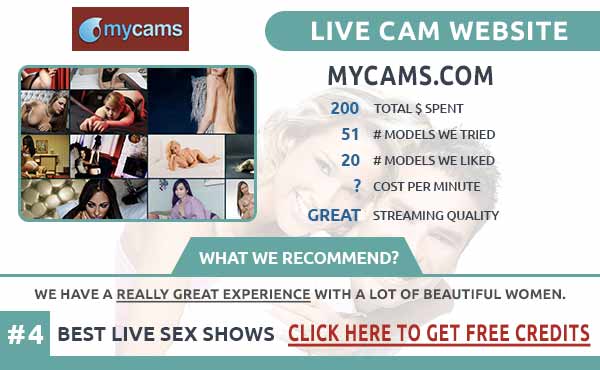 We had such a great time on MyCams. It's one of the best live sex cam sites. Rated #4 in its industry. You should try it. Click here to get free credits on MyCams.com
MyCams Review
For MyCams.com we spent our standard $200 on credits for 4 guys over one month of testing models. It certainly helped to pay for the membership options – but we still found it took longer to get to actual models we found attractive than we thought it would. A lot of the time we thought a woman seemed attractive based on her personality profile, but it turned out after starting to video chat that we wanted to talk more than actually perform. That is not something we expected. They liked to video chat as much as actually chatting in the message forum, and a lot of the models were asking so many questions of us that it caught us off guard. MyCams also offers a lot of group forums for people based on themes or topics. We avoided those and spent time in the private chat forums only, because that's all we cared about.
In total we tried 51 models on MyCams.com, which is a lot compared to the rest of the sites we reviewed. However, as we implied above, we did not like over half of them. Only 20 models we found attractive enough, which is not so bad, but certainly less than we expected after going through all the questionnaire stuff. On the plus side, the streaming quality was great. We had consistent clarity and smooth streaming quality the entire time we were on the site. They have great web developers at MyCams that have put together a beautiful site for usability in every aspect. Not only was the streaming quality quite excellent: the profiles they build for each member are so much nicer looking than any other live cam site we tried. Nothing felt tacky or outdated like some other sites feel. It felt like you were amongst friends on MyCams.com, which we actually enjoyed.
Is MyCams Working
Is MyCams working for live cam and sex hookups? Well, we would say that it is, but it is geared towards a certain kind of person that likes to know as much as possible before doing anything, and control the whole environment around them. A lot of MyCams appeal is for people that have never used live cam sites before. It focuses on easing the member into understanding what live cam sites are good for, and how much pleasure they can get from strangers if they just open up a little bit and are curious. Some of the models were really good, but most of them were focused on trying to learn about our personality and what we are like in real life. That's all well and good, and we did have some nice casual sex with amateur members on MyCams.com, but if you want excellent models who will do anything you ask right off the top, then look someplace like Eyelive.com rather than MyCams.com.