Sexier.com
In our opinion, Sexier.com is a live cam site that provides a pretty convenient service. We liked the site layout, we really dug some of the models that we met, and it really seemed like Sexier had cornered a market for petite and wild models. However, as you will see throughout our review of Sexier, we believe that Sexier.com scams are more predominant than normal video camera interactions, and that makes it hard to get the performances you want as fast as possible. Once Sexier.com puts some time and money into site maintenance and security, we think that Sexier could be filling a really important void in the video cam web market. There are not many websites like Sexier.com that market towards young adults looking for some exciting BDSM or video sex of a more intense nature than your average live cam site. In theory Sexier.com has it all, which is ironically why Sexier scams are so popular. As we noticed in our review of Sexier, the models that say they are wild did not appeal to us as much as the Lingerie models that actually got more wild than we expected. It was a great surprise, and definitely the way to get what you want out of Sexier.com
We feel confident that Sexier.com could improve a lot if it got better security software and updated the server speed. However, at the moment, with a normal streaming quality there is very little Sexier can provide by way of consistent sexual experiences for it's users. We consistently had to settle for ending our video chats much earlier than we would have liked because of a choppy feed. Aside from improvements needed in site upkeep and general security, we think that Sexier actually has a pretty great selection of models. It's just a matter of convincing people to pay for the premium access to experience the BDSM fetish stuff that we fell for. You need to get access to the sexier models if you want to get a great performance, that's for sure. The site just works better in the premium section. It's a free site if you just want to browse amateur members looking to video chat, and that section of the site is okay, but nothing compared with the BDSM ladies in the premium section. What we really found annoying was that Sexier did not have as many premium options as other live cam sites like LiveJasmin. Sexier offered Silver and Gold premium membership options, but neither of them were the kind of deals we were hoping for. We did not read the fine print on our member's contract, and were not happy to notice that since we used more credits than we were allotted we had to pay a finet. We definitely recommend that Sexier move to a pay-per-minute model like LiveJasmin.com.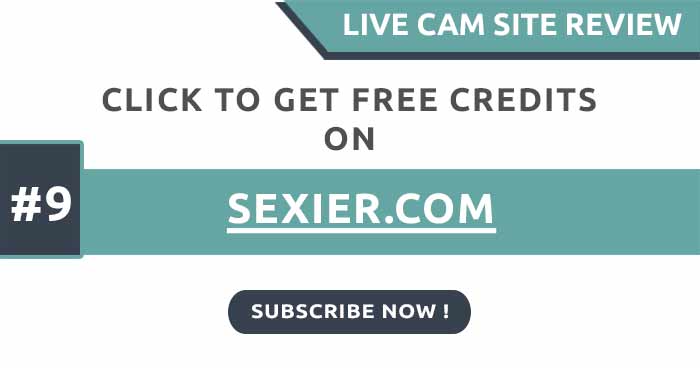 Review of Sexier
We started off with high hopes on Sexier.com. It seemed like the categorization method was pretty solid. We had to put our age, sex, and a little bit about ourselves in our profile description. We like this more than just posting any image, because it makes it easier to know who you are dealing with if you see an age, location, and little bit about who they are. In the case of Sexier.com, this procedure made no difference in the quality of the members. As we said before, Sexier scams were more predominant than meeting genuine people.
Sexier scams entail being private messaged by random people all the time. It also means being messaged a lot in the group chat rooms where you can go to meet strangers before video chatting. The scam artists will build up a profile of someone that looks familiar and happens to be close to your location, and then will try and convince you to help them pay for a plane ticket home. Watch our for bad grammar too – that's a really good sign of a scam artist because most of these profiles are made by men in Africa and Eastern Europe. Once we knew what to look out for on Sexier.com we were able to avoid these scams.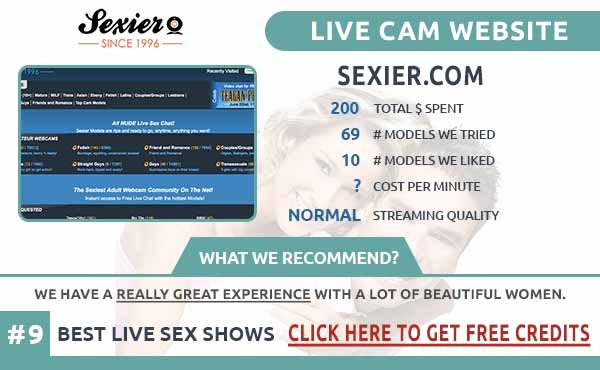 We had such a great time on Sexier. It's one of the best live sex cam sites. Rated #9 in its industry. You should try it. Click here to get free credits on Sexier.com
Is Sexier Working?
The functionality of Sexier.com is actually pretty solid. You can search for women based on location if you want, which makes Sexier a possible option for meet ups. What Sexier is really trying to do though is to cater to the wild people, the BDSM crowd. There are forums with themes about BDSM practices on the website, and a lot of the questions you are asked in the signup process have to do with BDSM experiences and curiosity. That's a great niche as far as we are concerned – but the problems came in the execution.
In these BDSM chat rooms we said "we did not have much experience with BDSM" in the questionnaire, but were "curious to see what it was all about". We were hoping to have some pointers or some info about BDSM, but nothing was provided by Sexier.com. Instead of getting tips or recommendations for good members to reach out to, we were left alone in a huge chat room of BDSM enthusiasts who were sharing all their knowledge. We did not know how to get included in these chats, so we looked around at searching for similar kinds of newbies in the site. It was a fun searching experience to see all the options, but it took a while because it was hard to tell if any of the members were newbies unless they said so in their description – so we were left to read through all the descriptions to see if any of them wanted to video chat with us. So we only ended up video chatting with a few BDSM models in the premium area. We really liked the attitude and performance of these models. They had really fast cameras and had a bunch of sex toys and imaginative moves to get us really going. Now that we know the system on Sexier it's not hard to find sexy women, but it was too annoying for a new person to navigate on their own, so we recommend Sexier give more tips and feedback to new members.
Due to the search issues in the BDSM section, most of the women we video chatted with were in the amateur area. In total we met with 69 women, which is the highest number yet. It was not hard to meet ladies and chat with them, but not many were attractive. Only 10 of the 69 we found attractive, and half of them were from the premium section. If you want a great experience from a reliable online cam website (without all the little hickups of a niche site like Sexier), then you should to take your money and spend it on a site like LivePrivate.com instead, which has some of the best models out there and matches up interested members with models really quickly. All in all, Sexier.com has found a great niche for it's service, but some work needs to be done on site usability and membership credit options to make it more enticing for members to join and explore.