JoYourSelf.com
We believe that JoYourSelf.com has a lot of unique strong points that make it a worthwhile live cam site to use. Based on our review of JoYourself, it is a pretty straightforward web cam site that attracts sexy models and puts enough time into improving the functionality of the website to keep it interesting. The functionality of the site could use some work, however, and we were also surprised to find that JoYourSelf does not offer much in the way of incentive based membership packages. The whole premise of JoYourSelf is to keep a log of all your activity and then direct you as to what your favorites are, or what they could be. As a member who pays a cheap price to watch beautiful models on camera, you can build up a series of favorite models that will learn to know what you like. There are mostly amateur models that work from home on JoYourself. Like we said in our review of LiveJasmin (the best pay-per-minute live cam site on the web), we are partial to models working from the studio. We find that the video quality is better in a studio, and that the models really feel like they are working for you. Luckily, we found that JoYourSelf.com worked with models that made their bedroom feel like a sex den.
With a high number of models on the web all the time, and an easy signup process that took under 5 minutes, there is little about JoYourself that we did not like. It just loses points to cam sites like LivePrivate.com when it comes to video feed quality, the skill of the models, and site design.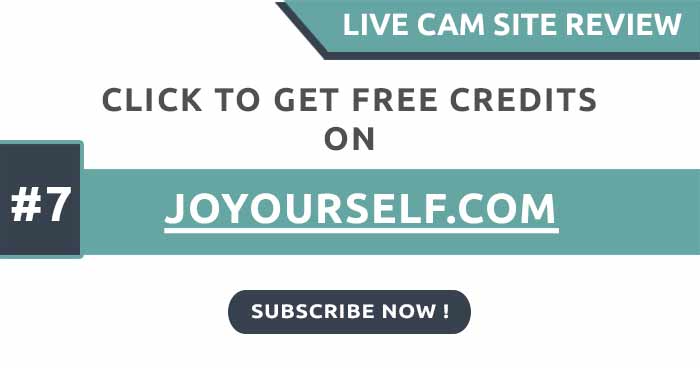 Review of JoYourself
We started with the simple signup procedure that involves a Visa card and an image. JoYourself.com basically looks and feels like a nerd chatroom for World of Warcraft – or one of those music gear chat rooms where you have no idea what the other person is like that you are a chatting with. The functionality and mechanisms of the site don't get any better as you get deeper into the site either. For example, once you are ready to go, you realize that there is no search filter options. You can't hover over profiles of women that are online, or pick certain characteristics to search for out of a list. We would have liked to have more search filter options, but instead we just got lumped into the huge online chat room and basically need to start a conversation with whoever seems interesting. It took us a lot longer to find attractive models this way, but once we did, JoYourself.com logs your history and then puts the models in a list based on how long you have spent with them. That helped once we signed back in.
JoYourself.com works on what they call a "Connections" system. You have to pay extra for this "Connections" service, but we guarantee it's worth it. Once you have a video chat with a model you have achieved a "Connection" with them. You gradually build up a number of connections as you search for longer, and every time you sign in you get lumped into a live chat with all the members that you have had a "Connection" with. We think this is a great way of going about organizing a live cam site, but we wish there were some search filters in the general search to make it easier. We much prefer the style of EyeLive for example, which lets you personalize your profile and then lets you search based on categories. JoYourself.com markets themselves as bringing you into contact with people that are similar to you and that you will find sexy, but they don't do anything to make that happen for you. They expect you will be able to do all that work on your own, which, given how poor the image profiles are of the members, is not easy at all.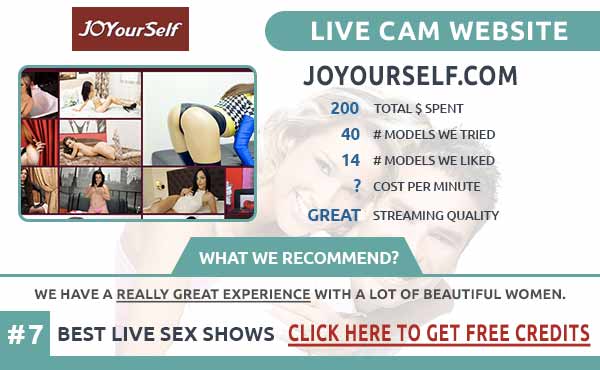 We had such a great time on JoYourSelf. It's one of the best live sex cam sites. Rated #7 in its industry. You should try it. Click here to get free credits on JoYourSelf.com
Is JoYourself Any Good?
We ended up spending $200 dollars in the premium "Connections" service that gave us access to some sexy live models. Unfortunately, none of them were trained in the craft of live cam performances. All they would want to do is take their clothes off and touch themselves. There was nothing sultry, sexy, or alluring about that, especially because they were mostly sitting in their bedrooms. Nothing is less sexy than seeing some girl sitting in a t-shirt in her bedroom in the middle of the afternoon. They have to try a little bit harder if they are being paid, no? So the question remains: is JoYourSelf any good? In our opinion, it's good if all you want is to watch women pleasure themselves. We know a lot of guys like that, so if that's your bag then go for it with JoYourself.
Is JoYourSelf Working?
We met 40 models on JoYourSelf.com, which is under our average. If there were more options, or at least some better way to search for models, we would have looked at more. Even in the paid section of the site, JoYourSelf expects you as the member to do all the searching for the kind of lady you want. You are given a big list of active models who are willing to video chat, but you only have one image of the model and a symbol notifying you when they are online. It would not take very much for JoYourSelf.com to get their paid models to make a bit more of a detailed profile. Then, once they make a categorized search algorithm, the paying members could search based on affinity and interest rather than just scrolling through all the options. Thank god for the Top 5 Model Ranking system that JoYourself provides it's members. This would have been really helpful if we were not conducting a survey.
The quality of the models was obviously not great, as we mentioned above. Only 14 out of the 40 models we video chatted with we actually found attractive. This is a poor percentage for a paid site, but we cannot be surprised given how poor the amateurs were. All in all, it really makes a difference to pay for the premium "Connections" service on JoYourSelf.com. Otherwise you are wading through a bunch of random single ladies that can only pretend to know how to perform for you.